BETTER SUSPENSION SETUPS
Monday, 19 August 2019
4WDAction issue #297 June 2019 – Suspension Feature
Is your suspension letting your pride and joy down? We speak to the industry's leading experts to find out how to improve any suspension system without spending the earth.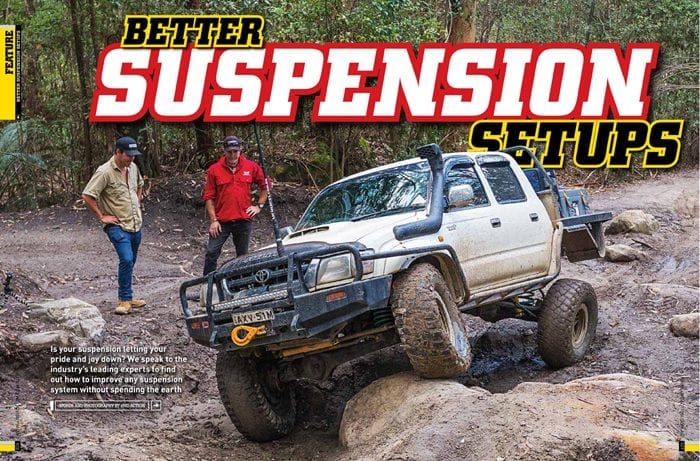 STOP PUTTING UP WITH SUB-STANDARD SUSPENSION
Suspension setups can be a minefield, even for those of us who've been 4WDing for years. We've enlisted the help of the industry's leading experts to set the record straight.
If terms like 'camber', 'rebound' and 'coil-rate' whoosh in one ear and out the other, then don't sweat it for a single second, because you're not alone. Suspension systems are one of the most misunderstood components of a 4WD, it takes years of experience to get them bang on, and every vehicle is different.
As 4WDers, we generally want one of two things out of our suspension systems – and often both. First, we want it to work well off-road in the rough stuff, the wheel-lifting tracks that push our rigs to their limits. Secondly, we want them to be able to carry loads – either heavy loads now and then over the back axle, or constant loads from weighty 4WD accessories.
It used to be that these two desires were mutually exclusive. You wanted your old Patrol or Cruiser to work well off-road? You fit soft, flexy springs. Want to carry a lot of weight? Sign up for an ultra-thick, extra-heavy duty leaf pack setup that looks more at home in a dumptruck than your HiLux. Thankfully, the suspension industry has come leaps and bounds over the last couple of years, and these days you genuinely can have your off-road cake and eat it too.
We've enlisted the help of five of the suspension industry's leading experts to talk all things suspension, what's most commonly done wrong, and how you can set your rig up right from the get-go, without risking your hard-earned cash on the wrong components.
OUR EXPERTS
ADRIAAN VAN DER WESTHUIZEN – RAW 4×4
Adriaan is a true petrol head and has been involved in automotive design, manufacturing and vehicle dynamics for the last 13 years. He has worked as a design engineer contributing to teams which designing and manufacturing solutions for automotive platforms ranging from the P7 Maclaren sports car to road-friendly truck and trailer suspensions. Being a 4WD enthusiast, he enjoys spending time off the beaten track and has used these incredible machines to enjoy some time with family and friends in very remote places.
BEN DOBINSON – DOBINSONS SPRING & SUSPENSION
As Research, Design and Development Manager of Dobinsons Spring & Suspension, if Ben Dobinson is not working designing and testing suspension and accessories products, he's at home modifying one of his many 4WD projects or out there enjoying them. The bloke lives and breathes off-roading, from low-range rock-crawling to long-distance touring. With over 60 years of experience in the suspension game, Dobinsons Spring & Suspension have seen and done just about everything, and Ben seriously knows his stuff!
MICHAEL ZACKA & BRAD CANNON – KING SHOCKS AUSTRALIA
We get a double-whammy of experts from the Australian arm of one of the world's premiere shock absorber manufacturers and experts, King Shocks. Mike Zacka is Director of both Mike's Shock Shop and King Shocks Australia and is a shock builder and tuner as well as being a third-generation off-road racer – off-road shocks are just in his blood. Brad's a diehard passionate 4WDer and suspension enthusiast who is into everything from budget built 4WDs to full-blown off-road racing. He's the manager of King Shocks Australia and Mike's Shock Shop.
SHANE BOYLE – FULCRUM SUSPENSIONS
After two decades as a mechanic, Shane Boyle took his huge wealth of knowledge about getting 4WDs running right and stepped into a new role as Retail Support Co-Ordinator for all Fulcrum Suspensions stores around the country, which he's been doing for almost the past decade. That's a fancy way of saying he solves any tricky problem that any customer could have, and he's here to share his hard-learned knowledge with you!

UNDERSTANDING TYPES & TERMS
Before we get started, let's run through a brief explanation of the most common suspension types & terms we'll be discussing.
CASTOR: The angle the front wheels pivot on, also known as steering angle. Often thrown out of alignment during lifting requiring bushes, plates or drop arms to correct.
CAMBER: The angle of a wheel looking at it from the front, top of the tyre pointed in is negative camber; top of the tyre pointed out is positive camber.
RADIUS ARM: The suspension arm found in the front of 'Cruisers and Patrols holding the diff longitudinally in the vehicle. They'll generally have one bush on the chassis end under the front door and two bushes on the axle.
CONTROL ARM: Any suspension arm that holds components sideways in relation to the chassis, e.g. Panhard rods, front wishbones.
TRAILING ARM: Any suspension arm that holds components front to back in relation to the chassis, e.g. radius arms, rear suspension arms.
COILOVER: A shock absorber with a coil spring over the top, found in the front of late model IFS 4WDs and a common aftermarket upgrade, also known as a strut.
PANHARD ROD: A suspension arm used to hold the diff sideways in the chassis.
5 LINK: A suspension system that uses 5 suspension arms to locate a diff, generally four forward facing links with one sideways facing arm (Panhard rod).
DRAG LINK: A rod coming from the steering box and going to one wheel, sending it the direction you steer.
STEERING RACK: Found in later model IFS 4WDs. These are a steering box and draglink all in one.
TIE ROD: The rod going from one wheel to another, ensuring they both steer together.
TIE ROD ENDS: The joints on either end of a tie rod, connecting it to the wheel assembly.
BALLJOINTS: The joints used to hold a wheel assembly to the control arms in an IFS setup, can also be found in other styles.
SOLID AXLE: A straight axle, as found in the front and rear of 'Cruisers and Patrols, the rear of Utes.
IFS: Independent front suspension, where the two front wheels are able to move freely from each other with the diff mounted to the chassis.
IRS: Independent rear suspension, where the two rear wheels are able to move freely from each other with the diff mounted to the chassis.
BUMP STOPS: Rubber or hydraulic pads designed to slow down, or limit wheel travel to prevent bottoming out.
SWAYBAR: A spring steel bar that runs from one side of the vehicle to the other, helping reduce body roll.
BRAKE PROPORTIONING VALVE: A valve on or above the rear diff designed to sense load and spread braking pressure evenly between front and rear brakes.
DRIVESHAFTS: The two shafts sending drive to the diffs from the transfer case.
DRIVESHAFT SPACER: A solid steel puck approximately 20-50mm thick designed to cheaply extend a driveshaft.
DISLOCATION CONES: A metal or rubber cone that fits inside a coil spring, allowing it to guide back into location after over extension.
SPRING RETAINERS: A clip or mount that physically holds a coil spring in place.
SHACKLE: The metal bracket used to hold one end of a leaf spring to the chassis, it allows the spring to flex and move.
DIFF DROP KIT: A series of spacers that lower a diff to realign CV joints in a lifted 4WD.
BETTER LOAD CARRYING
Suspension sagging under the weight of your vehicle? Here's how to cure it.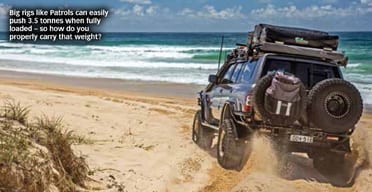 FIRST THINGS FIRST…
"The most important factor when setting a vehicle up for weight carrying is understanding that the heavier the vehicle the harder and more important the role of suspension is," says Brad Cannon.
"Weight distribution is also another factor for example, heavy items loaded up high on a roof rack will make the vehicle unstable even with the best suspension. The most important factor when setting up a vehicle for weight carrying is knowing how much you can carry while maintaining a safe and legal vehicle. The GVM (gross vehicle mass) of your vehicle, which is the maximum operating weight as specified by the manufacturer including the vehicle's tare weight, accessories, driver, passengers and cargo excluding any trailers."
"It is important to have a good idea of what weights you will have on the vehicle, how often you will have the weight on the vehicle and the position of the weight of the vehicle," says Ben Dobinson. "All of these factors are critical in getting the right suspension for your needs the first time and being aware of potential compromises between ride and load carrying capacity if larger amounts of weight aren't permanent."
"The most important recommendation that can be made is to set up your vehicle for what you will be using it for 80% of the time," says Adriaan van der Westhuizen. "This will give the best compromise in ride comfort, handling and weight carrying ability. Setting it up for a once off trip or towing a boat or caravan once in a while can lead to harsh ride and the vehicle sitting to high."
"What vehicle do you have? Is it the right one for your needs?" asks Shane Boyle. "Most people get this right, but we do find that some people buy are a vehicle because they like it and try to modify it beyond its capabilities rather than it being suited to their needs. What accessories do you have? Front (Alloy bull bar, winch, etc.) Rear (drawers, towbar, canopy, etc.) How often do you carry the load? All the time or occasionally? How heavy is the load? Where do you carry the load? (Rear, Roof etc) When loaded (including passengers and fuel) are you under your vehicle's GVM? Do you want to lift the vehicle?"
IS A 'HEAVY DUTY' SUSPENSION KIT ALWAYS THE RIGHT SOLUTION TO WEIGHT CARRYING?
"No, a 'heavy duty' suspension kit does not suit everyone as no two vehicles carry the same load," continues Shane. "There are many different load carrying solutions on the market today and making sure you get the right solution for your needs is the most important thing."
"Unfortunately, heavy duty is a word which is being thrown loosely in the industry and has lost its core meaning," explains Adriaan. "A vehicle setup for weight carrying will vary depending on the weight, if permanent or varying and the scale of the load. To get the best solution for your vehicle is having a clear understanding of the accessories fitted to the vehicle and the type of load that will be carried. This is why a one size fits all approached is not taken when specifying suspension components. We always recommend fitting the suspension after all other load bearing accessories have been installed to insure maximum comfort and optimized load carrying."
"No, spring rates are most important," explains Mike from King Shocks. "Most are heavy spring rates with cheap shocks same as a comfort lift. Spring the car for 75% of time. Buy a cheap shock you will suffer offroad. A Shocks job is not to carry weight it's to control the momentum of the spring and vehicle."
"While most off the shelf 'heavy duty' weight carrying suspension upgrades handle extra load quite well, this is not always the right solution," says Brad from King Shocks. "In some cases a heavy duty suspension kit is not suited to all weight carrying scenarios. For example, Mikes Shock Shop sets their suspension kits up to suit the customer's specific needs. If a customer is interested in weight carrying however they are only proposing to carry the weight twice a year when they go on a short term offroad trip, we will steer them towards a spring and shock package that performs excellent for the 90% of the time they use the vehicle unladen and couple that with Airbag Man airbags for example as a load assisting tool during the 10% of their laden off road excursions."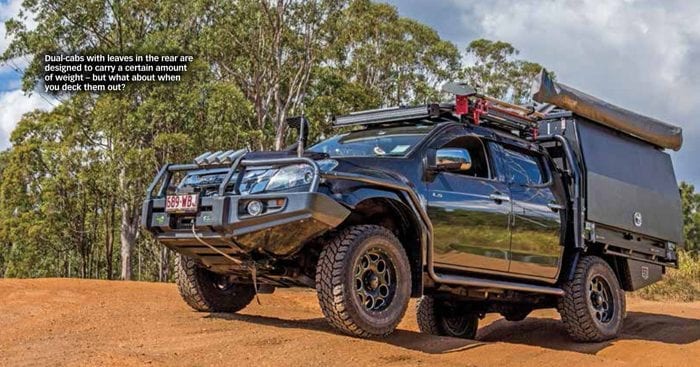 DOES A HEAVY DUTY SUSPENSION KIT HAVE TO RIDE HARSH?
"Not if the weight is permanent and the suspension is matched to the vehicles weight and loads," says Ben. "On the other hand if a heavy duty suspension kit is fitted and the additional weight then removed, then the vehicle will become harsher as the ride frequency increases."
"If set up correctly the simple answer is no," says Adriaan. "In most cases an improvement in ride comfort can be expected. Over sprung vehicles with over rated springs provide a harsh ride. This is why it is essential that accessories are fitted to the vehicle prior to the suspension install and a realistic view of what load is going to be carried and how often is needed."
"This is where making the right choices when setting up your load carrying system affects the most (spring rates, airbags)," says Shane. "The only time a weight carrying suspension system should ride harshly is if you don't have the weight on the vehicle to move the springs properly (springs are too heavy for the load) or if you have Airbags and you have taken the weight off and not deflated them."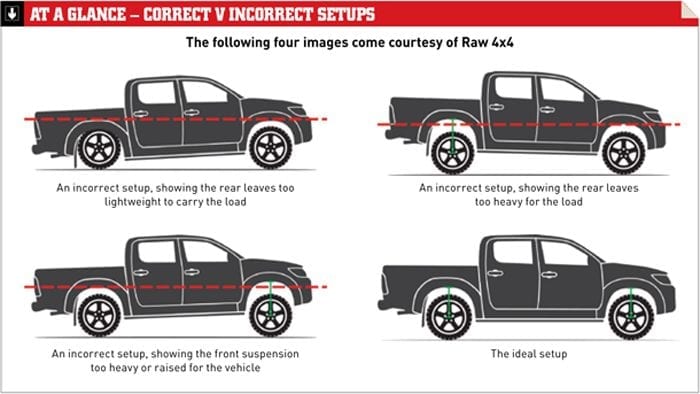 INSANE OFF-ROAD ABILITY
Looking to turn your rig into an off-road weapon? This is how to do it.
CRUCIAL FACTORS IN LOW-RANGE SUSPENSION PERFORMANCE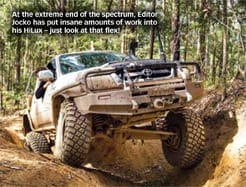 "When you are lifting a vehicle to gain better clearance and perform better off-road it is key to get the spring rates correct to suit your vehicle and accessories/load," says Shane. "If your springs are too light you will not get the extra clearance underneath your vehicle. If your suspension is too heavy for the load you have, you may gain extra clearance underneath, but your vehicles suspension will not compress properly and therefore restrict the amount of articulation your vehicle has."
"Ground clearance is an important factor when it comes to off roading," says Adriaan. "This combined with the traction advantage form a suspension solution which offers good articulation makes spring selection critical. High levels of body control are required during off road driving. Damper selection and damper technology are also important factors to consider. Off-road focused Shock absorbers which offer hydraulic stop or recoil cut off and 360-degree welds will provide better reliability and reduce component fatigue in off road conditions. In general twin tube damper design will provide better impact resistance on the damper body when the unplanned happens."
"Determining what you consider as off-road capability, whether it's rock crawling/articulation performance or whether it's the ability to go fast in comfort on rough terrain," says Ben. "Also knowing the vehicle loads you will have when off-road. This will affect the parts selection and how the suspension is setup. For example if you're looking to go fast in comfort on rough terrain it is no good installing a set of 14" travel shocks, only to have to extend your bump stops 4 inches sacrificing compression travel and spend the whole time pounding on the bump stops."
IS WHEEL TRAVEL THE BE-ALL AND END-ALL FOR OFFROAD WORK?
"Generally, this is still the case," continues Ben. "The more travel, the more articulation you can achieve when crawling and the more available suspension you have to soak up big hits. There are other factors involved though such as knowing your compression and rebound travel to determine whether extending the bump stops or raising the upper shock mounts is the best option, centre of gravity, link geometry and link bind."
"As with most things in life special scenarios exists," says Adriaan. "But with all other factors remaining equal this still rings true."
"Longest amount of wheel travel is still definitely a part of the ultimate solution to off road ability, but it is no longer the only thing people use to increase their off-road capabilities," explains Shane. "With technology advancing with the modern day 4WDs there are all kinds of gadgets such as diff locks, downhill assist and hill start assist that help with off-road capability. It's almost at a time where people can four-wheel drive by buttons!"
MOST COMMON MISTAKES MADE
The most common stuff-ups our experts see time and time again, and how to avoid them.
Most commonly it would be selecting suspension and then altering vehicle loads later on", says Ben. "Often springs and shocks are selected based on a new empty vehicle and one of the first modifications done and then later on as more accessories and loads are added to the vehicle the springs and shocks currently are no longer suited for the increased loads. This is often interpreted as sagging springs but upon remove the additional weight the vehicle returns to its previous height. Another common mistake or misconception is selecting super long travel shocks.
Whilst the more travel we can achieve the better, having shocks so long that they require huge bump stop extensions has a massive impact on ride quality as the amount of compression travel is greatly reduced and often bind in the suspension links or arms does not allow the full droop travel to be used as well. Personally, I prefer to see raised upper shock mounts and shocks selected to give the most amount of travel without sacrificing too much compression travel, this keeps the centre of gravity low and allows the suspension to do its job and soak up the big hits."
Shane from Fulcrum Suspensions tells us there's four common mistakes he sees; "When I lift my vehicle all I need to do is springs and shocks/struts": "This is not always the case, although there are companies out there on the market who sell just springs and shocks in their kits, you need to ensure that you can get a good wheel alignment after being lifted. When you change the height of a vehicle you change the ability of being able to get good wheel alignment settings, depending on the vehicle you may require more. There are many options on the market to fix this issue whether it is offset control arm bushes or adjustable control arms."
"The more I lift my vehicle the better off road performance I will have": "This is not true, every vehicle has its limitations on what height you can lift it to before it becomes unstable or you run out of suspension travel. When you lift an IFS vehicle which has an upper and lower control arm it becomes a trade off with down travel, the more you lift it the more down travel of the wheel you lose as the chassis only allows for a certain amount of overall suspension travel."
"I have loaded my vehicle up with everything ready to tour around Australia and the rear of my vehicle has sagged a lot, I should be able to just install an airbag kit and pump it up to 60 psi and it will be fine": "The airbags are an 'assist' for your existing suspension which shares the load across the airbags and leaf/coil spring and if your existing leaf/coil spring suspension is too old and has sagged over time leaving the airbags to take the majority of the load this can cause damage to the vehicle or make your vehicle feel unstable."
"Airbags will damage my chassis": "This is not true, excessive load and or an unusual operation is usually the cause of vehicle or chassis damage. If operated as per the manufacturer's instructions in combination with good suspension, then you will have no issues."
"We still have a lot of customers fitting the suspension with the idea of adding the bull bar and the winch after the fitment of the suspension or alternately later dropping in a draw system in the back afterwards," says Adriaan. "Fit your accessories first especially the heavier ones that are critical to specifying the right suspension component for your vehicle. Waiting a bit longer and you will have a massive benefit on how high your vehicle sits and the overall ride quality."
BECOME AN INSTANT EXPERT
More suspension info you need to know, that'll make all the difference to your setup.
WHAT DO YOU MOST WANT TO TELL EVERY 4WDER BEFORE THEY WALK IN THE DOOR?
"It really helps us If customers know what additional weights, they are carrying including accessories on their vehicles, what they plan on doing with the vehicle also have a clear understanding of the limitations of their vehicle can do or be done to it," says Shane.
"Knowing how you will be using your vehicle for 80% of the time," explains Adriaan. "For example, fitting 300kg constant load springs for towing the boat once a month will result in a harsh ride the other 29 days of the month!"
"Know your vehicle weights and loads beforehand," says Ben. "Even do the suspension as the last mod if possible and know what you want out of your suspension – is it ground clearance, articulation, load carrying capacity or going fast in the big stuff? Knowing what you want to achieve from upgrading your suspension will help to ensure you get the right parts for the job."
"Everything is a compromise," explains Brad. "Each decision you make in regards to your suspension needs to be catered to your specific needs. If you want to do rough dirt road 90% of the time and you want the best ride quality and reliability but don't want to spend the money for King shocks, you will be disappointed. If you want an IFS vehicle that handles beautifully on the road but expect it to stretch like a patrol, this won't happen."

CAN YOU REALLY HAVE IT 'ALL' – OFF-ROAD ABILITY AND LOAD CARRYING CAPACITY?
"There are always some compromises," explains Ben. "Provided the correct suspension parts are selected to match the vehicle weights and the combination of airbags and a suspension kit for vehicles that have semi-permanent loads will provide the best possible performance off-road and load carrying capacity whilst working within the OEM vehicle constraints."
"Short answer… yes," says Shane. "If you get your suspension combination (shocks, springs) correct for your use/weights than your suspension will travel through its full range and give you the correct heights and comfort on road desired."
"There are some well-engineered and optimized packages on the market where the trade-offs and compromises are very small and mostly unnoticeable by most users for the mainstream vehicles," explains Adriaan. "Unfortunately, on the extreme end of both scales we still find that the most extreme purpose-built rock crawlers are still not very good at carrying heavy loads."
SPRING RATES AND SHOCK DAMPENING – WHAT ARE THEY, AND HOW DO THEY WORK TOGETHER?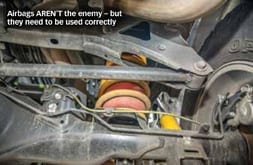 "Higher spring rate will provide better load carrying ability as the added load will have a lesser impacted on the ride height," says Adriaan. "The higher spring rate also reduces body roll. Dampers with increased damping forces will improve suspension bottoming and body roll. Dampers with increased low speed control will assist with lower speed body oscillation commonly associated with heavier vehicles. Lower spring rate could improve wheel articulation and thus improve traction. The lower spring rate will bottom out easier and thus momentarily reduce much needed clearance on independent sprung vehicles. Lower damping on high frequency small suspension movements for example corrugated roads could provide more comfort. When off road, high spring rates can negatively influence wheel articulation. It also influences other vehicle dynamic characteristics like the natural frequency of the suspension as well as body roll and ride comfort."
"Spring rate and dampening are key components to pair correctly no matter what your intended use of the vehicle is," explains Shane. "The heavier your load the heavier your spring needs to be to hold the vehicle up, which in turn needs a heavier shock to control the bounce of the spring. If you have matched your spring rates and shocks correctly for your load you will find that your vehicle both off and on road with your load on it will perform with the same ability or better as O.E. and won't be hindered by the heavier suspension/load."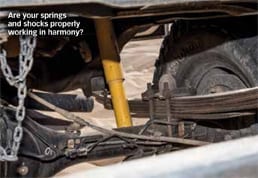 "It is the job of the spring to hold the vehicles weight and the job of the shock to control both the sprung and unsprung weight of the vehicle," says Ben. "Generally, as vehicle weight and load increases, the required spring rate and shock compression and rebound damping will increase to allow the suspension to handle and control the increase in weight.
When it comes to off-road capability generally for vehicle owners looking for increased flex, softer spring rates and damping values will be used. For vehicle owners looking to blast through rough roads at high speed, again softer spring rates with increased pre-load at full droop along with softer rebound damping and firmer high-speed compression damping in the shocks will offer better performance provided the shock absorber is up to the task. Spring Rates and Damping values are again relevant to vehicle weight to achieve desired ride frequencies and damping ratios."
Find the right kit for your vehicle visit the RAW 4×4 online kit builder.